Photo Print : With or Without a Frame ?
The 15/07/2022
Professional photographers and photography enthusiasts alike know that pressing the shutter button is only the beginning. To give life to your most beautiful images, printing and framing are essential. Protected and enhanced, a framed photo print not only brings out the beauty of your image: it reinforces its narrative power. You're not sure yet about having your favorite photos framed or you don't know how to choose the photo frames that will elevate the greatest shots of your portfolio? Discover the advice of our art print and framing experts to turn your framing projects into a success.
Why Should You Frame Your Photo ?
There are many practical and aesthetic reasons for framing a photograph. Once framed, a photo is protected from the imprint of time and from external elements. A frame and a glass cover allow to secure the image from natural risks such as UV rays and dust, but also from human accidents (stains, tears…). It's a plus for a personal project and a must for an indoor or outdoor photo exhibition!
A custom-made frame emphasizes the exhibited image by directing the viewer's gaze towards the photo. The photo frame accentuates the presence of the work and its charisma. It is not by chance that museums and galleries always present their photos and paintings, framed. To strengthen this impression, the passe-partout placed right on top of the image is ideal! Its border accentuates the borders of the photograph and enhances its depth.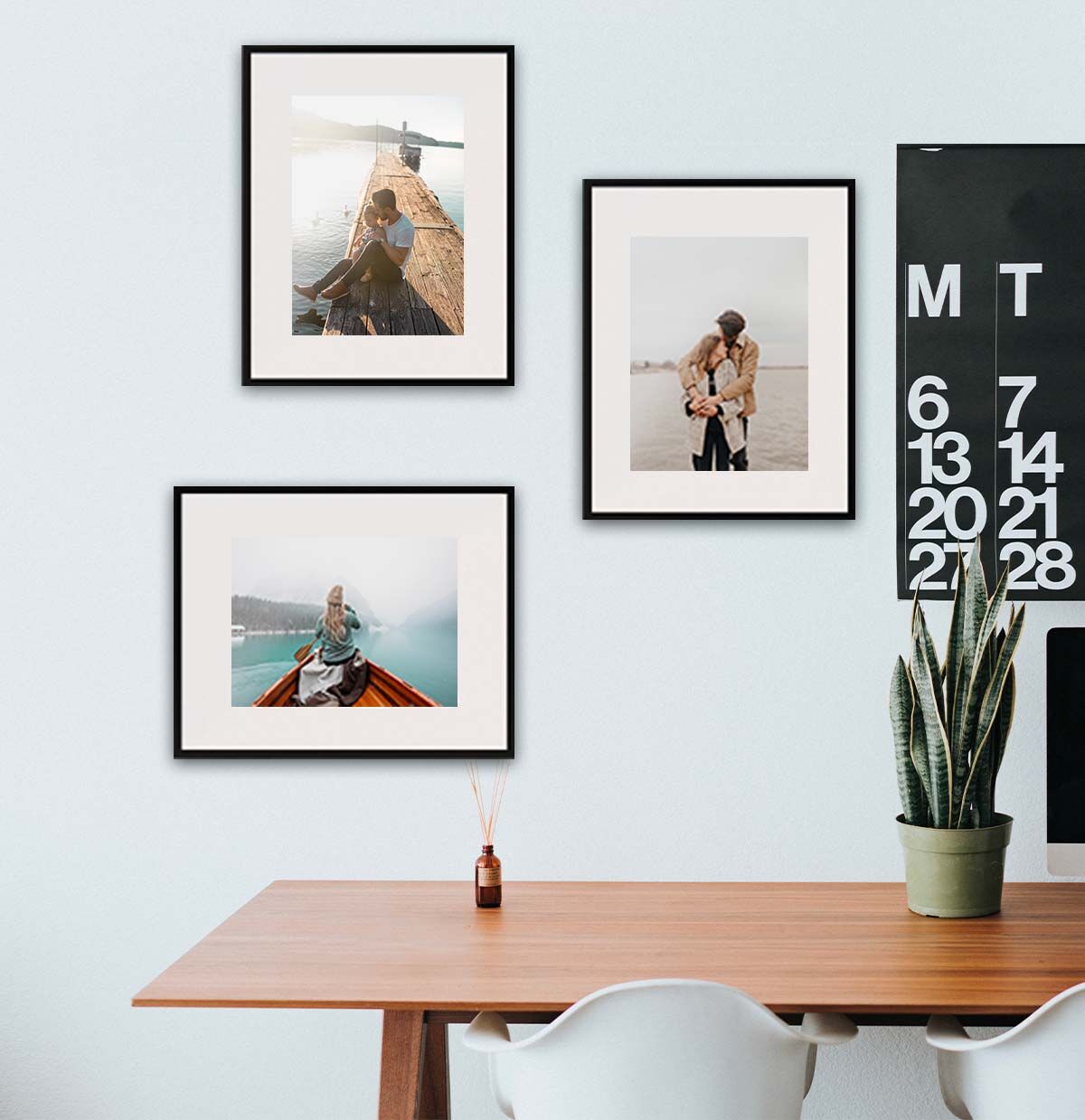 Finally, framing your photos make it easy to personalize your living space. Your choice of frame is a matter of taste (wood frame, aluminum frame…) but a photo frame chosen in harmony with your interior design will enable your print to harmoniously blend into your room.
The Frame, a Decoration Asset for Your Home
A framed photograph will easily find its place in a bedroom, a living room or in a hallway. Having your photographs framed allows you to personalize your interior by arranging your walls to your family taste. Whatever your desires, a print enhanced by a custom-made frame enables you to imagine a unique photo decoration for your home.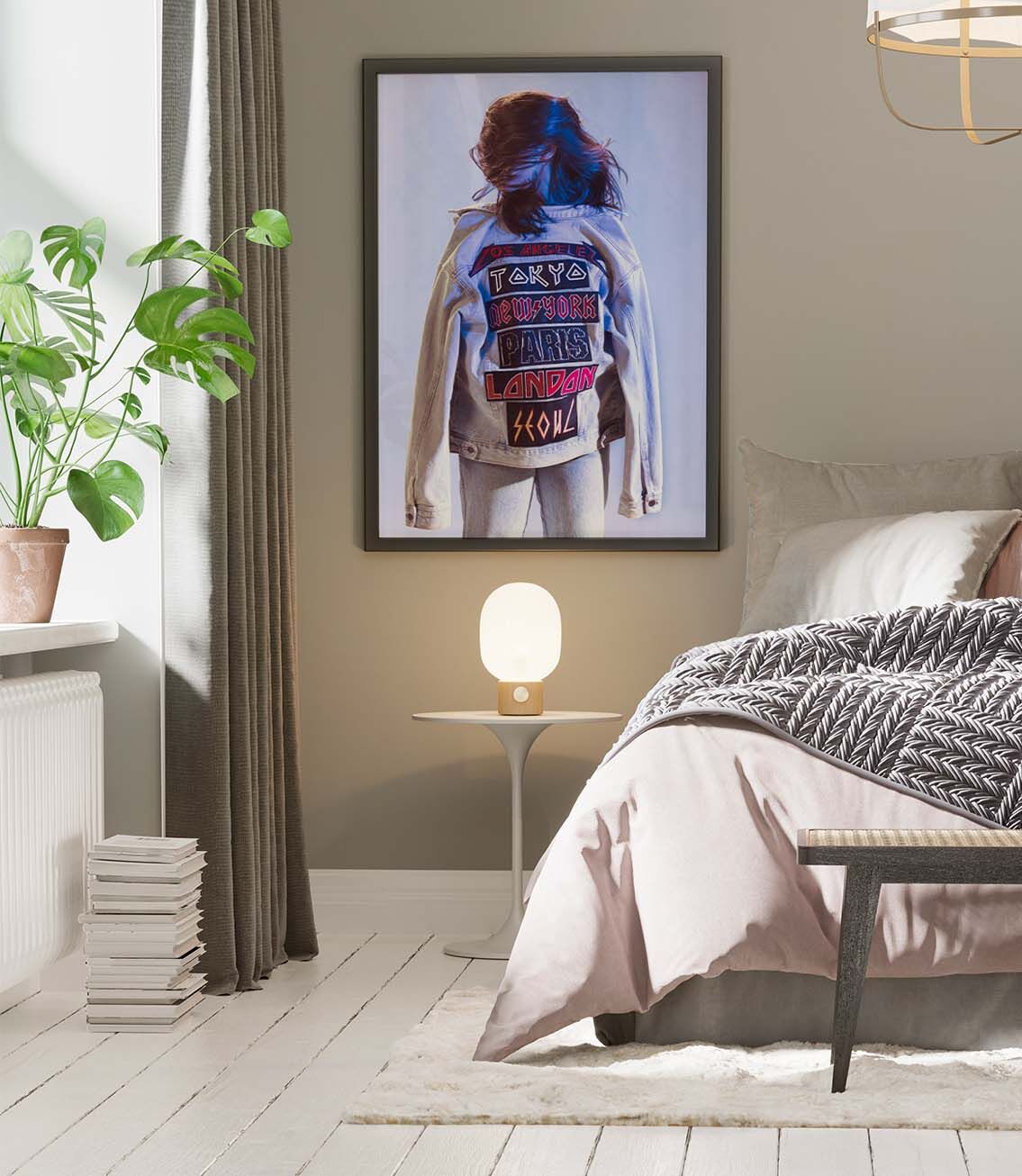 You can dedicate a full space to your most beautiful images. In a bedroom or study, a wall of frames furnishes the space while displaying your favorite portraits and landscapes. Chosen in a variety of sizes and finishes, multiple frames will bring character to a room. The accumulation of photo frames is one of our most popular tips for an original photo decoration.
Your custom-made frames can, of course, be hung on your walls. You could also create an exhibition space on the floor or on a piece of furniture (such as a console) by displaying a few carefully chosen photo frames. This choice of decoration brings to any room an arty style inspired by lofts and artists' studios.

The Zeinberg Framing and the Sophistication of the Float Effect

Our photo lab considers framing as the utmost and most elegant finishes available to enhance your most beautiful pictures. We offer different types of classic frames, especially for our Framed Gallery format which can also be paired with passe-partout.
Our custom frames can also be paired to our signature Zeinberg Framing to accentuate the sophistication and lightness of this frame type favored by galleries and professional artists. The shadow-gap frame is an art finish perfectly suiting large formats to create a floating impression between the photograph and its custom frame. The frame itself is slightly lifted from the wall to emphasizes the depth of your photography. The Zeinberg Framing is available for our Plexiglas, matte Plexiglas or aluminum finish for Large, Giant and Collector formats.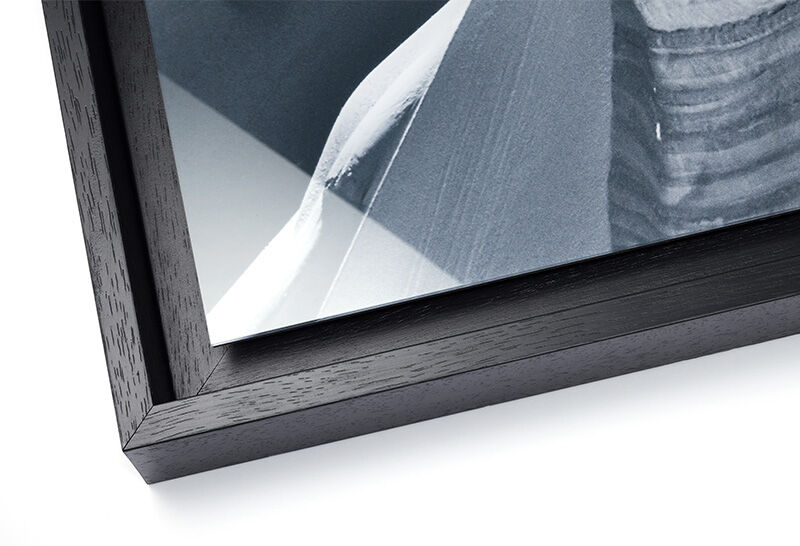 Which Frame to Choose ?
The wide choice of frames and the great offer of material, size and color options can make selecting a photo frame a complex task. There is no such thing as a standard frame, but there are many differences in the quality of custom frames available on the market. A poor-quality frame can distort your image and alter its beauty. Choose a custom frame in a noble material (real wood or aluminum), with or without passe-partout, but always perfectly adapted to the dimensions of your photo.
For a minimalist feel, you can opt for a black frame or an aluminum frame with a contemporary design style. Colored frames can bring to your home an hint of fantasy while wooden frames, available in different variations, have a pure elegance and authenticity that easily match most interior decorations.
Our frames are especially created for our shadow-gap frames. They are available in 7 colors including 3 stylish wood finishes:
Oak, a durable wood with a soft color that easily matches any interior design
Walnut, a luxurious wood slightly darker than oak
Bubinga, an exotic wood also named sacred wood in Africa. Its pinkish to reddish-brown hues make it an elegant and original choice
Satin Black, a timeless and minimalist choice to enhance the contrast of any photo
White Satin, this frame brings lightness and light to an interior decoration, this finish will gracefully reinforce the contrasts of your black and white photos
Silver, our silver frames bring modernity to your color and black & white pictures
Graphite, an ideal alternative to the Silver or Satin Black frame, the graphite finish exacerbates the depth and contrast of the image while easily finding its place on your walls

Our timeless framed photo print in Framed Gallery finish is available in a custom frame (50 × 40 cm) in mahogany wood, black aluminum or white wood.

Shipping Your Framed Photo
Carefully wrapped, sealed and protected, your Zeinberg framed photograph is ready to be delivered to you, directly to your door or to the nearest YellowKorner gallery.
Our photographic laboratory delivers in France and abroad. We collaborate with carrier companies specialized in the transport of artworks for a secure packaging and a fast and reliable reception of your order wherever you are. Custom-made boxes and wrapping ensure the protection of your print from its departure of our laboratory to your door.
Choosing your format, finishes and a shadow-gap frame is no longer a secret!
Get ready to proudly display your most beautiful photos with a custom frame.
© 2022, Justine Grosset for Zeinberg