How to Create Successful Photo Decoration ?
The 06/05/2022
Would you like to personalise your interior decoration? Printing your own personal photos is a perfect solution. To create a successful mural decoration, your choice of photograph, but also the type of print and its framing are primordial. Interior architects and decorators are aware of this: making an impact with your decor is also and above all about paying attention to the association between your decorative elements and furniture.
Explore our ideas and the advice of our partner, the photography laboratory to the finest galleries and renowned photographers, to pull off your own personal photo decoration with taste and flair! Adorning your walls with your personal photos and creating an interior that reflects your personal style will hold no more secrets for you.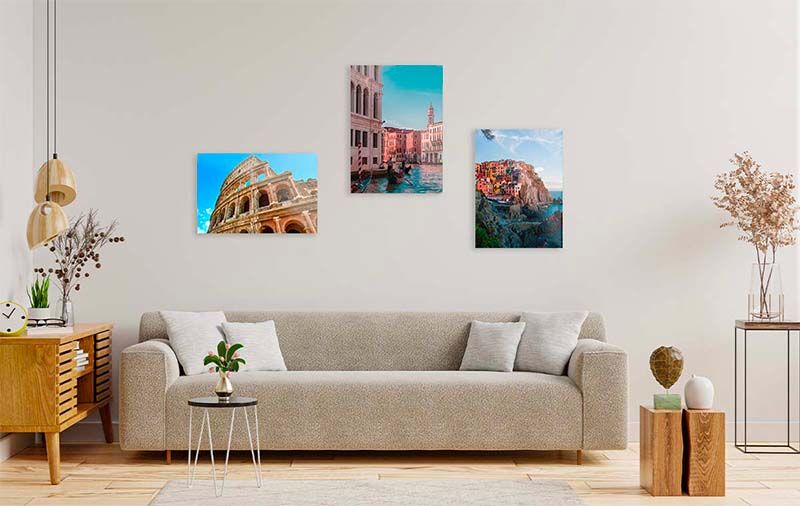 What Are the Advantages of Photo Decoration?

A contemporary interior decoration depends on a savvy balance between arranged space and uncluttered areas. In apartments, or in a house if you are a fan of minimalist decoration, it could be preferable not to multiply furniture and decorative objects. On the other hand, walls are wonderful exhibition spaces for taking advantage of an aesthetically pleasing interior decoration without inhibiting circulation, and this rule applies irrespective of the surface area of your interior! To add a designer look to your wall decoration, you can opt for photo framing by a professional photographer or relive your finest moments via the printing and display of your favourite personal photos.
Thanks to the creation of your own photo print and the display of your most beautiful personal photos, you are sure to obtain a personalised and original mural decoration that is uniquely yours. Forget the standardised decorations and framed photos of major decor brands: Zeinberg prints showcase your creativity. Presented on your walls, your best photos will enable you to share your passion for photography with others and to relive precious memories. Family photos, travel photography, portraiture, or landscapes lend themselves perfectly to mural decoration.

An Original Mural Decoration with Photos

Do your empty walls bore you? Mural photo decoration will bring all of your rooms to life. For original mural decoration, you can play on several aspects:
The subject of your photograph
The composition of your image during the shooting phase
The harmonisation of the main colours of your interior design by selecting a photo in the same chromatic range, or, on the contrary, the choice of an image whose hues will contrast with your dominant decor.
The choice of monochrome for a more retro mural decoration in black and white
The format of your print
The type or form of your photo frame (wooden, graphite, etc.)
The association of your photo prints among themselves, composing a photo wall.


Opt for a Large-Format Print

For a customised, designer interior decoration, there's nothing like a large-format print! A large-format print heightens your favourite photos while adding character to your interior. Our laboratory offers three formats with large dimensions, to give your finest images pride of place. Our Large (90 x 60 cm), Giant (150 x 100 cm), or Collector (180 x 120 cm) formats will be the unrivalled stars of your interior decoration.
Pour une décoration d'intérieur personnalisé design, rien de tel qu'un tirage photo grand format ! Un tirage grand format sublime vos photos préférées tout en apportant du caractère à votre intérieur. Notre laboratoire propose 3 formats de grande taille pour mettre en majesté vos plus beaux clichés. Nos formats Large (90 x 60 cm), Giant (150 x 100 cm) ou Collector (180 x 120 cm) seront assurément les stars de votre décoration d'intérieur.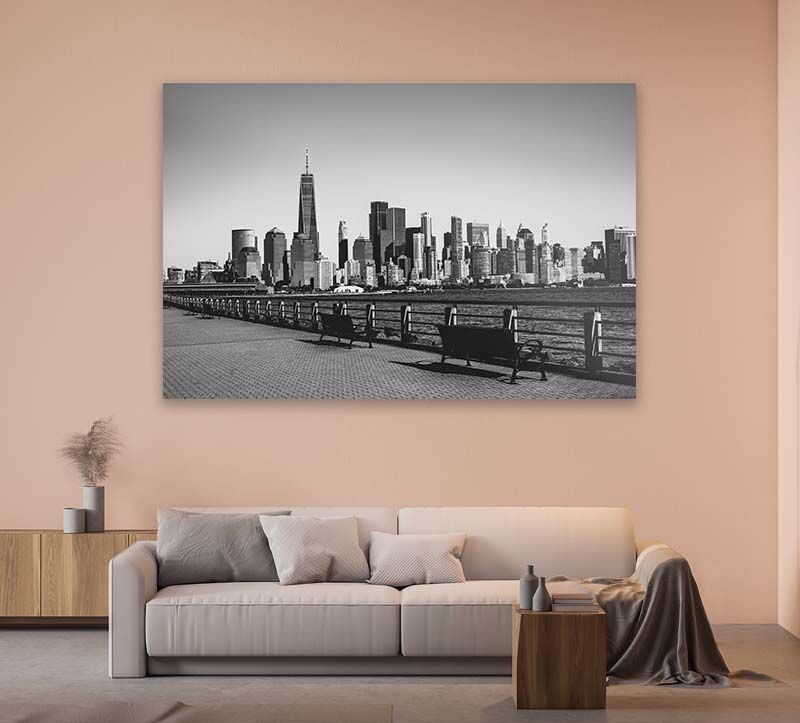 Giant format is the ideal large-format print for panoramic photos. It is the most suitable format for furnishing a space like a living or dining room: rooms where you usually enjoy a bigger surface area to be able to appreciate this kind of photo print from a certain distance. Offered in all of the signature finishes at our photo lab, it is the perfect format for a landscape, panorama, or even an aerial view.
To sublimate a large-format print and add sophistication to your mural decoration, opt for our shadow-gap frame. The impression of floating obtained through this framing, in high-quality wood, brings elegance to a large-format print while showcasing its ethereal quality.
Accumulation of Photo Frames

To accumulate photo frames and create a truly unique photo wall, you can opt for a cleverly offbeat composition by varying the formats, subjects, and photo frames selected. Dive into the photo albums in your mobile phone or disk drive and select the most successful shots or the ones that remind you of the best times. Gallery Framed, Selection, or Mini Formats combine marvellously to compose an inspiring and elegant photo wall.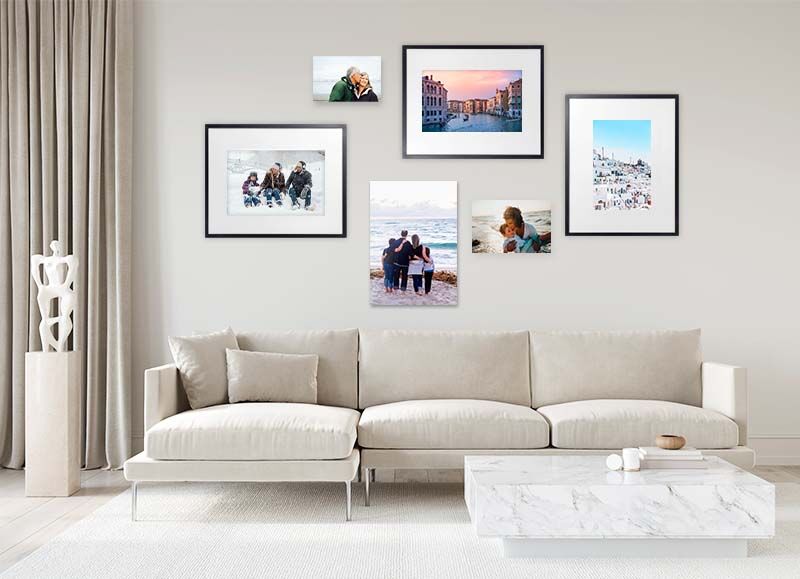 Our photo printing in Mini format, harnessing all of the expertise of our laboratory into one mini format, is perfectly adapted to the creation of a "jumble" photo wall, for a bedroom or office. Our Mini format (19.5 x 13 cm) is offered with a Plexiglas finish and will easily hang on your walls thanks to its adhesive hook. You can also arrange it in portrait or landscape format on a piece of furniture, thanks to the mount provided.
Would you like to highlight one of your favourite photos? Why not choose a beautiful photo for print and display in the form of a triptych? Choose your image, divide it into three files of the same format and entrust it to Zeinberg for printing. Your customised triptych will give character to your designer mural decoration.
Would you like an interior decoration that reflects your personality?
Start by decorating your interior with your personal photos!
©2022, Justine Grosset for Zeinberg
Translation by Anna Knight