What is a Shadow-Gap Frame ?
The 05/05/2022
Art galleries, museums, artists, or interior designers: all of them have adopted the shadow-gap frame as their preferred type of framing. The minimalist elegance of the shadow-gap frame has seduced both amateur and professional photographers alike, but what exactly is a shadow-gap frame?
The Principle of the Shadow-Gap Frame
Since its emergence in the early twentieth century, framing with shadow-gap frames has earned itself a reputation as a safe bet in terms of quality and impact. Initially designed using corrugated cardboard designed to package artworks, this finish has since greatly evolved. Timeless and minimalist, the shadow-gap is coveted by photographers, professional artists, galleries, and art lovers.
The sophistication of the shadow-gap frame is ideal for showcasing a photograph, thanks to the "floating" impression provided by the offset between the frame and print. Unlike a standard frame, in a shadow-gap frame, the print does not touch its frame. Offered across the full range of models of shadow-gap frames at the Zeinberg laboratory, these 15 mm of offset make all the difference.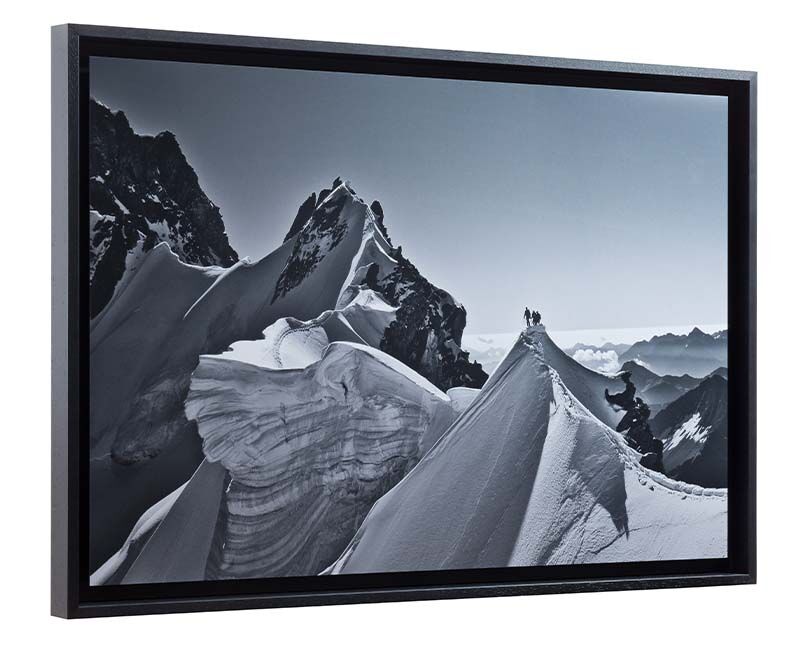 There are many advantages with a shadow-gap frame
This type of framing stands out, with its subtle elegance
Its light, airy quality is particularly suitable for large formats
The absence of glass avoids unattractive reflections
Thanks to its frame, the shadow-gap is easy to hang
Stable and resistant, this flat-backed frame enduringly magnifies a print

A Professional Framing Technique
Supported by an aluminium frame 2 cm thick, the photographic print is itself set out from the wall, in order to reinforce the character of the image. This effect confers a professional aesthetic worthy of the finest art galleries in the world to the humblest of images. The support and flat-backed frame of the shadow-gap allow the image to be presented in its entirety, without a passe-partout or mat board covering the shot. Allowing us to appreciate all the beauty of a photograph and hence the talent of its author, the shadow-gap frame quickly became an essential asset for photography exhibitions.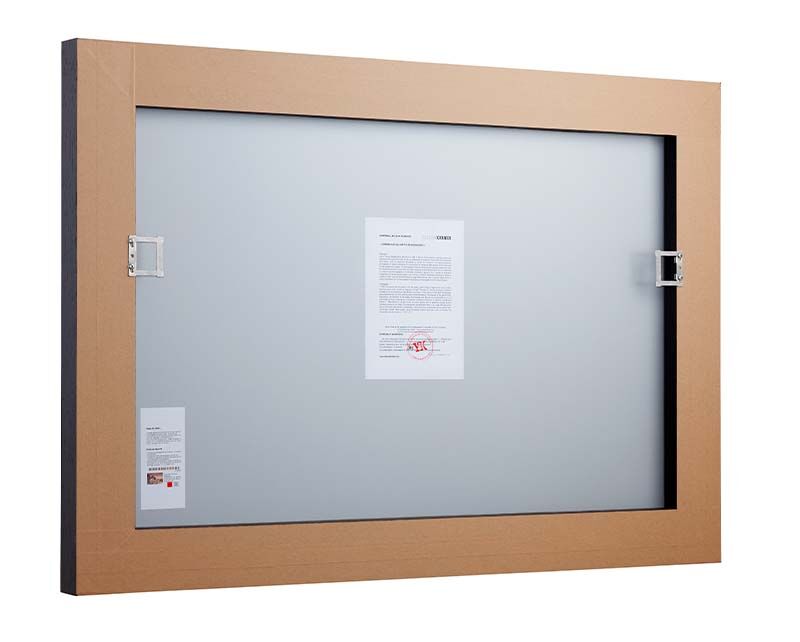 The contemporary aspect of the shadow-gap frame ideally heightens modern prints on Aluminium Dibond. The shadow-gap frame is not reserved for museums, this framing technique is now part of the zeitgeist!
The union of traditional expertise and new cutting-edge printing technologies allows the Zeinberg photo laboratory professional to guarantee the quality and durability of their prints and frames. Provided by our photo laboratory, the printing is carried out on silver photographic paper reserved for image professionals. This print is then mounted on Aluminium Dibond and coated, where applicable, with a gloss film depending on the desired effect. Finally, the print is mounted inside its luxurious shadow-gap frame, ensuring optimal quality printing and framing.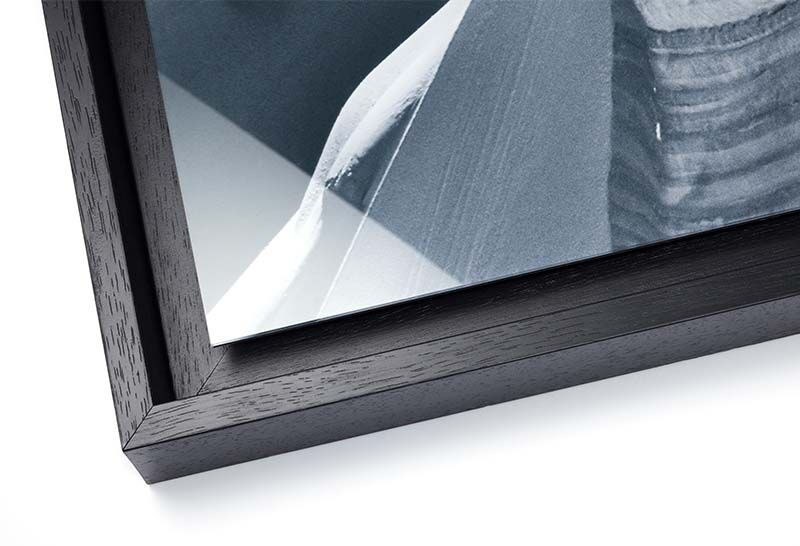 Custom Framing and Shadow-Gap Framing
The shadow-gap frame is a favourite for large formats. This high-end framing technique is perfect for printing and enhancing your own images, thanks to the framing of your photo prints in Large (90 x 60 cm), Giant (150 x 100 cm), or Collector (180 x 120 cm) formats. Highlighted by the shadow-gap frame, the immortalised subject (group portraits, landscapes, or abstract compositions) is perfectly visible. Thanks to the particularities evoked by the shadow-gap frame, the gaze is immediately drawn into the heart of the subject.
Ideal for showcasing a print on aluminium Dibond, a shadow-gap frame will magnify your photo, irrespective of the finish you choose (Plexi, Matte Plexi, or Aluminium). Simply ensure that your image is of good quality (if in doubt, ask our experts) and ensure that you have a good location available, from which to appreciate your customised artwork every day.
Would you like a custom frame in harmony with the colours of your interior? The moulding of Zeinberg shadow-gap frames are available in seven colours in high-quality materials selected for their beauty and durability. Do you have a contemporary framing project? You are sure to appreciate a black, white, silver, or graphite shadow-gap frame. Are you looking for an authentic frame made of natural materials? Choose from among our wood options, thanks to our shadow-gap frames in oak, walnut, or bubinga, an exotic wood with a very elegant pinkish to reddish- brown hue.

Do you have a project in large dimensions?
Zeinberg's shadow-gap frame will fully accommodate your creativity!