How to make a photo triptych ?
The 11/10/2022
In photography, you have plenty of occasions to get creative and not only when pressing the shutter button on your camera. Editing and printing your favorite photo is a great way to create original artistic photo prints such as a triptych format.
A personalized photo triptych will bring a unique, trendy, and modern style, to your interior decoration. Our gallery-quality photo printing website allows you to simply create your art triptychs. Choose your favorite photo, cut it into 3 images, and select the desired formats and finishes (for a triptych you need to order 3 prints). Send your photo files to our lab through our web module and receive your personalized triptych ready to be hung on your wall!

What is a photo triptych?
In Art and photography, a triptych designates the same scene represented on 3 physically distinct images. An image cut into 2 pieces is a diptych.
By staging your shots on 3 panels your custom triptych highlights your photos, allowing the viewer to dive right into the composition. The triptych brings out the details of a scene. Regardless of its size, a triptych transforms your pictures into a new image and emphasizes its character.
A triptych made of 3 photos taken of a subject from different angles will be a nice effect but it's more difficult to succeed with this type of triptych than with a single image cut out. The slightest difference in contrast, sharpness, or alignment will be emphasized by the juxtaposition of the snapshots. Make sure you follow our advice to master the making of a classic triptych before trying your hand at more original compositions.


Think of Your Images as Windows on the World
Your most beautiful personal photos can all be turned into a triptych, but it's also possible to have fun during the composition of your photograph to visualize its rendering in a triptych. Learn to observe the world with fresh eyes by imagining the cut of the image and by stopping on the striking elements in front of you.
The triptych print lends itself to all your decorative projects in color or black and white. A moving subject in the foreground and a continuous horizon line in the background or an urban skyline are all excellent subjects for photo triptychs. It's recommended to choose a beautiful landscape photo or a close-up rather than cutting out a group photo or a family portrait.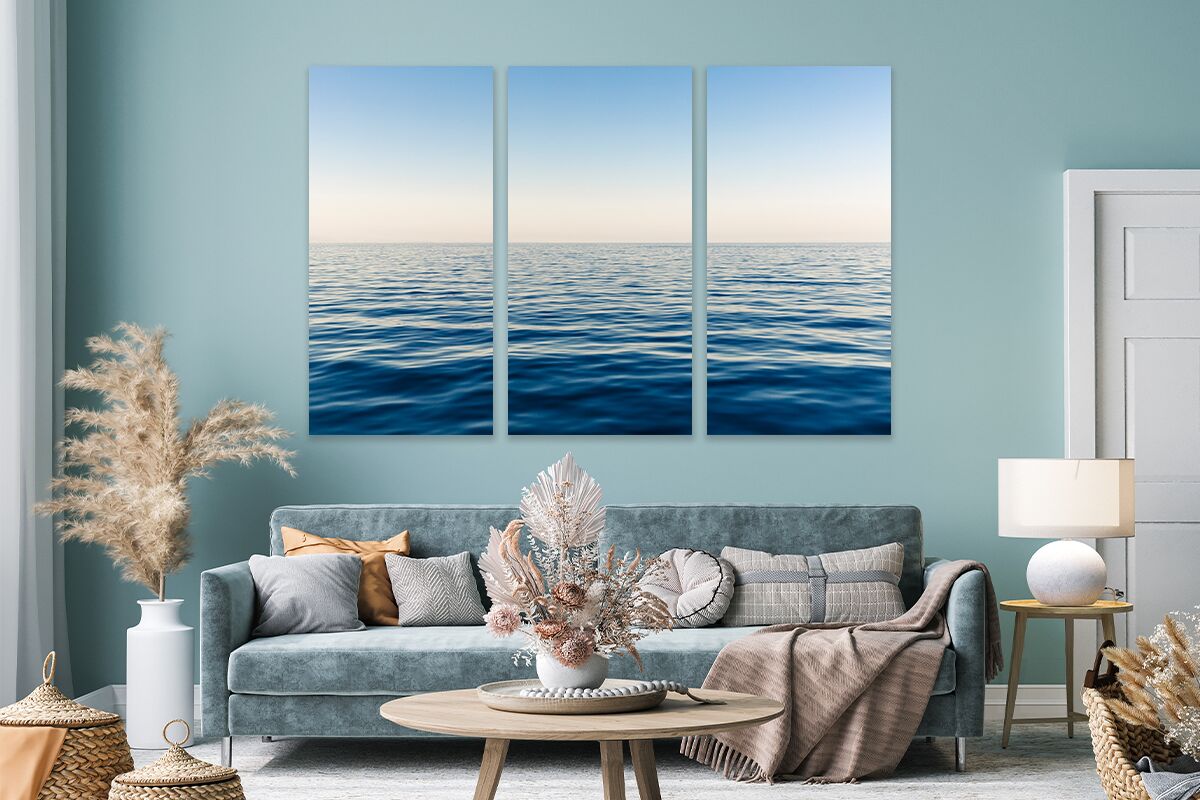 A landscape photo or your travel photos are perfect to create your triptych. Printing a triptych format allows you to rediscover your favorite images and gives them dynamism. A large format triptych, offering a clear view of your composition, will be particularly suitable to magnify an aerial view, a photograph taken with a drone, or a panorama. The magnificence of a panorama is difficult to emphasize with a traditional photo print, that's where the triptych comes in!
Which tool to cut out your photo?
To create your personalized triptych, it's always best to cut a beautiful image into 3 parts of the same size to maintain visual harmony. This unity could be lost by varying the size of each panel. However, if you want to play with proportions, you can choose a central element in Large format and 2 side panels in Selection formats.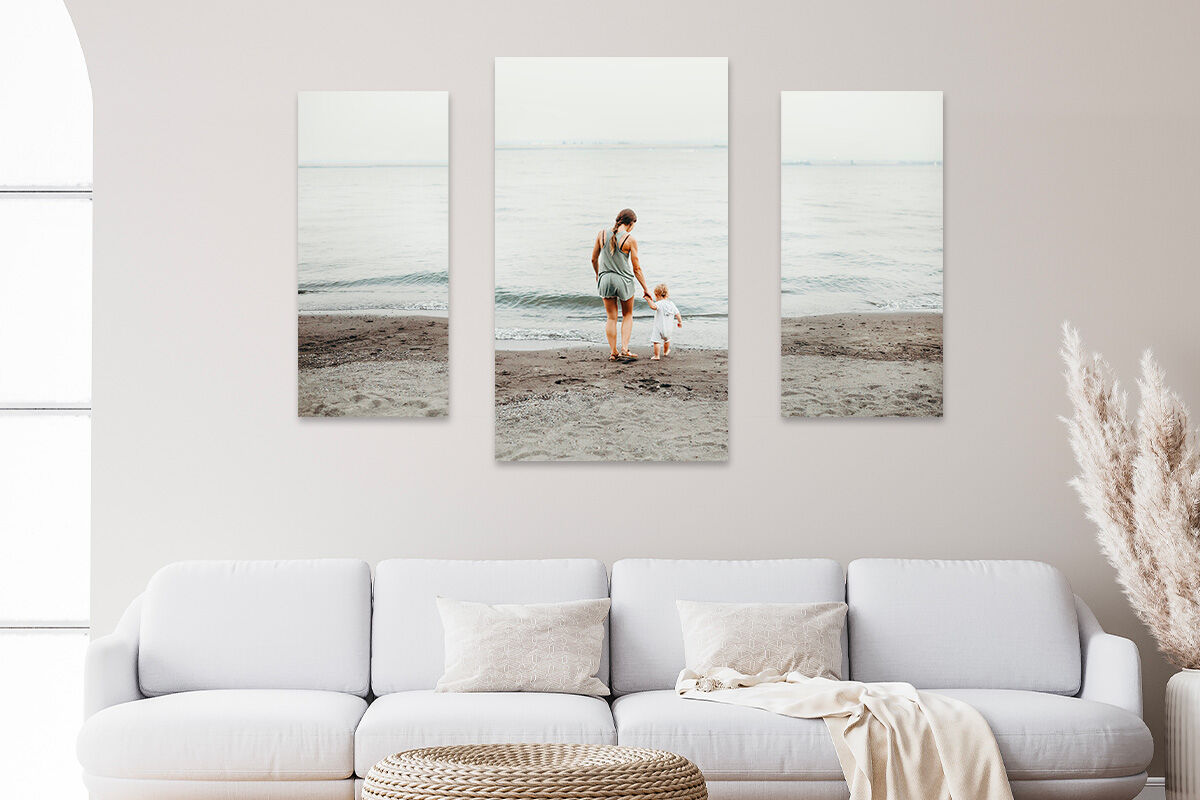 Photo tools and software enable you to cut your photo horizontally or vertically. The latter can bring originality to your wall decoration. Taking the time to think about how to cut out your photo can also help you improve your photography technique: you will see your images differently and will probably perceive details that previously went unnoticed.
Lightroom and its printing module let you select the number of lines (vertical triptych) or columns (horizontal triptych) to cut your photo. Photoshop also offers this feature. If you don't have a license for photo software, you will find many websites to cut your photo in a triptych. Just make sure that the files have a sufficient resolution when you upload them to our website to order your 3 Zeinberg photo prints. Before each print, our professional printers perform strong quality control, ensuring that your photo will be printed in high definition for a gallery-quality rendering.

Which support for your photo triptych?
To make your custom photo triptych, there is only one rule: cut your image into 3 parts. The rest is a matter of taste and inspiration. Your triptych can be in square or panorama format, so let your imagination run wild to create your photo wall decor!
All our formats and finishes, even a small format photo print, can be selected for a personalized triptych:
The Mini format print can allow you to create a mini triptych to display or expose on a console or over a fireplace
The Framed Gallery print and its 50 × 40 cm format easily lend itself to the creation of a triptych
The Selection format in aluminum or Plexiglas finish is our best seller. The choice of sizes is ideally suited to the panels of your composition
The Large Zeinberg format can be chosen to create a wider triptych. This finish offered in Fine Art, Aluminium Plexi, or Matte Plexi gives depth to your most beautiful photos
The Giant and Collector formats can be used to make a photo triptych. They will be more suitable for photo exhibitions or outdoor presentations because of their size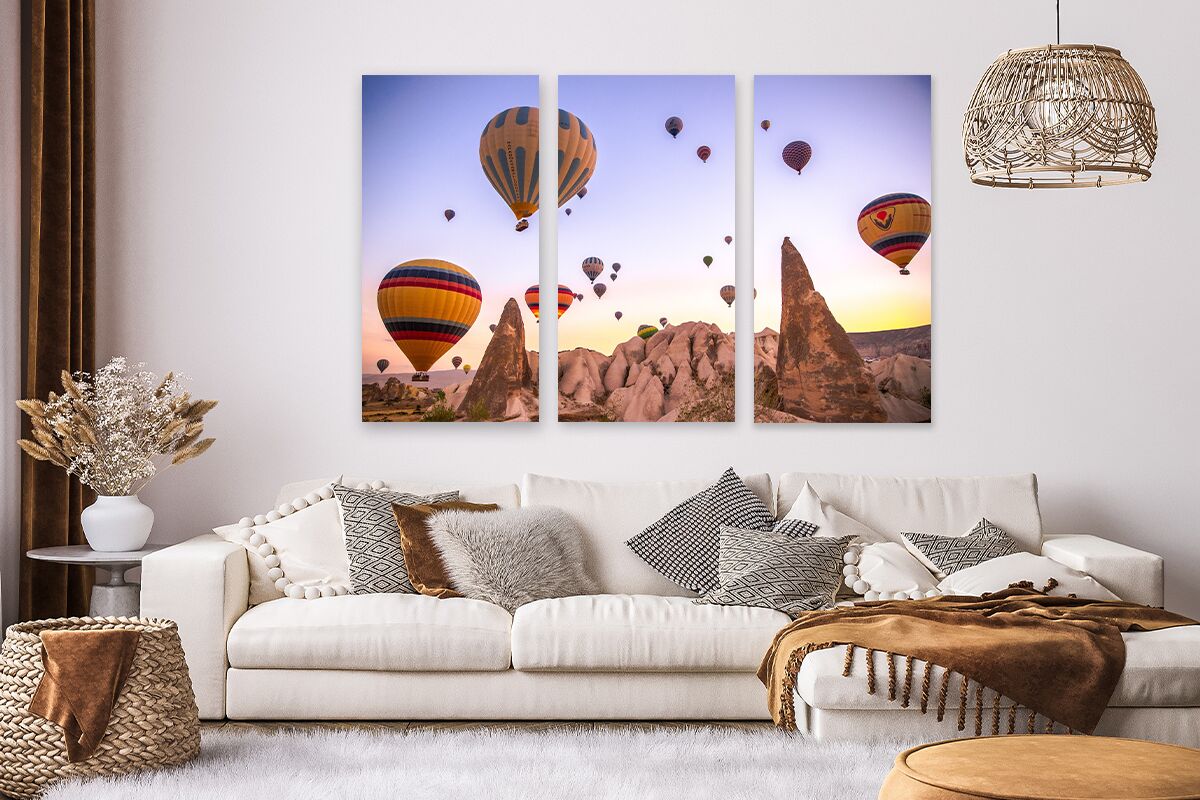 Traditionally, the images in a triptych are exhibited side by side, separated by a few centimeters to prolong the view from one panel to another. Nothing stops you from being creative and breaking with habits by displaying the panels of your triptych as you see fit within the same room, or even in separate rooms. This will create a new visual effect and arouse curiosity.

Want to try your hand at making your custom photo triptych?
© 2022, Justine Grosset for Zeinberg