Which Support to Choose for Your Wedding Photos ?
The 24/08/2022
While a wedding album is a practical way to preserve the memory of your big day, these personalized creations tend to sit on our bookshelves and rarely get flipped through. A video of your wedding can capture all the emotion of the moment, record messages from your family and friends and keep the memory of your first dance as newlyweds. Again, once the euphoria of the event fades, few people take the time to watch their wedding video over the years.
Printing your most beautiful wedding photos will allow you to thank you guests with a unique gift for their presence and their wedding gift. Photo print is also a great way to enjoy those memories daily. Whatever your taste in interior decoration and the theme chosen for your wedding, we offer several options of formats, finishes and photo frames to magnify your wedding photographs.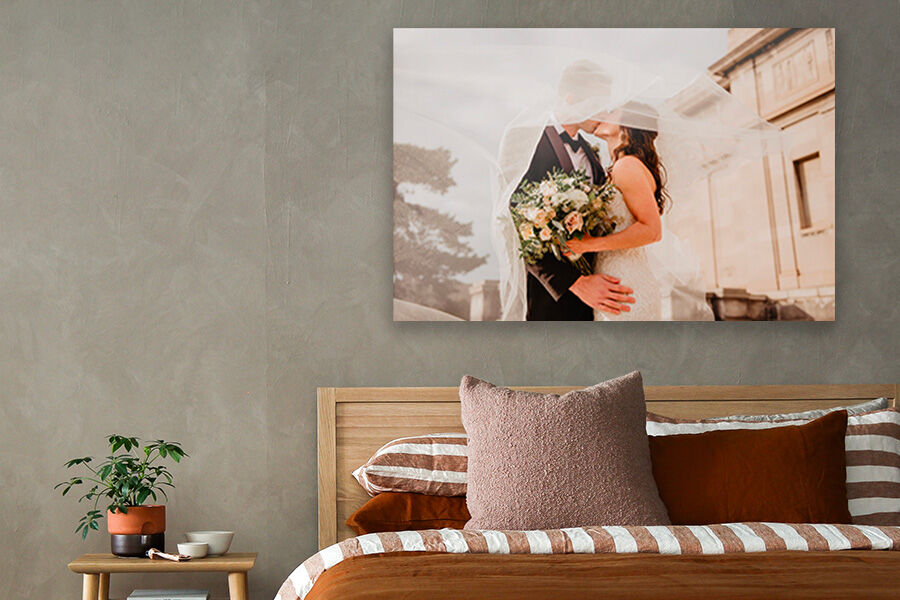 Wedding... Relive the most beautiful day of your life, for ever
Having great wedding photos will bring these once-in-a-lifetime memories to life. Finding a wedding photographer is a difficult exercise and an investment. Once the long-awaited day has passed, it is a renewed pleasure to see day after day the memories of your wedding scroll by displaying on your walls your favorite pictures. It would be a shame to leave these photographs in an album or a drawer when you could be enjoying them daily in your home. The framed photo prints of your most cherished moments help you to relive these precious but ephemeral hours year after year. The photo printing of your wedding album allows you to materialize this unique day to make it eternal.
For your living room, you could choose a large format print of a group photo or a portrait of your witnesses, groomsmen and bridesmaids at your side. For your bedroom, maybe more romantic images: intimate black and white portraits of the couple or snapshots taken by your photographer during the preparation of the bride and groom. These prints will be a nice touch to creatively personalize a room.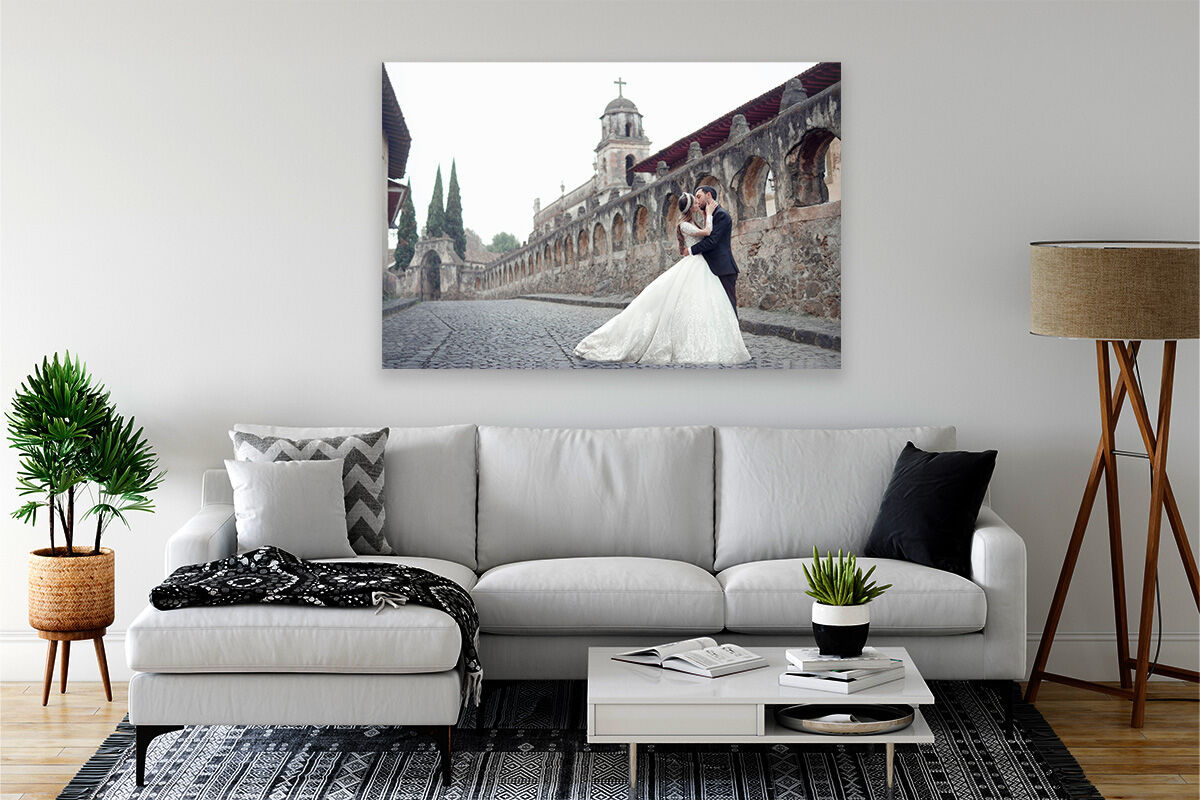 To relive your big day year after year, and why not share it with your loved ones and future children, the Zeinberg photo print is ideal. You can decide for yourself which of your favorite images you would like to have printed and framed by our lab. You can also let your friends and family choose by adding a selection of Zeinberg framed prints to your wedding list. This original idea will help your guests to have something unique for the new Mr. & Mrs.
Your home is home to the most important moments of your love story, so it's essential to adorn it with personal photos immortalizing the highlights of your couple life. Family portraits and vacation photos can be added to your wedding photos over the years to create a decoration that reflects the most beautiful chapters of your love story.
Frame the best photo of your wedding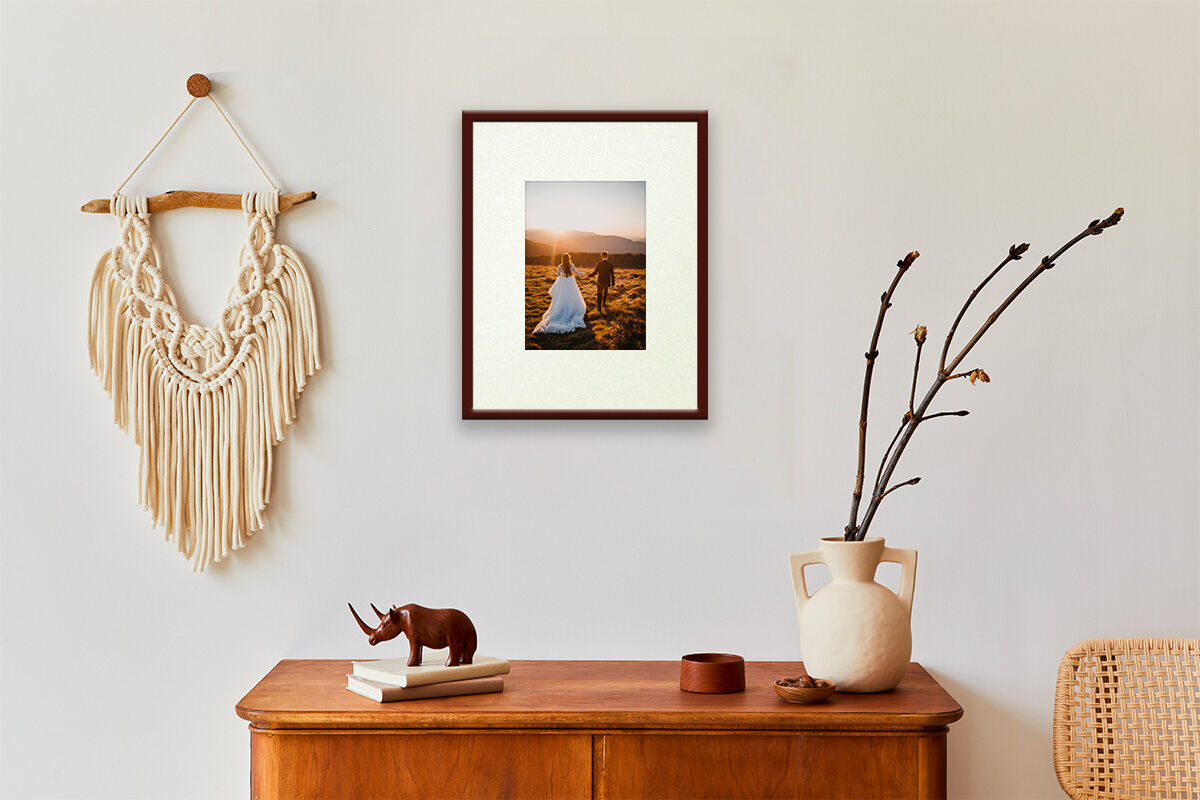 Custom photo framing allows you to fully personalize your interior but also to protect your wedding photos thanks to the addition of films specifically made to be layered on silver photo papers. Choose the most beautiful photo taken by your wedding photographer and frame it as you wish to shed light on this special memory! We have developed a wide range of photo frames to showcase your color and black and white photos, regardless of their format or finish.
For a timeless and elegant custom print, you can choose our Framed Gallery format, a must for portraits and monochrome nuptials photos. This type of frame is offered in:
Black aluminum for a sophisticated modern effect
White wood to emphasize the contrasts of your wedding photos, an elegant finish recalling of a wedding dress details
Mahogany for a luxurious and timeless finish
Our Large, Giant or Collector print formats can also benefit from the addition of a shadow-gap frame. This elegant finish enhances a group photo or any photo from your wedding day with its floating effect. This signature Zeinberg framing is offered in 7 finishes:
Black Satin
Graphite
Silver
White Satin
Oak
Walnut
Bubinga

The elegance of a Plexiglass print for your wedding photos
Everything starts with the optimization of your image and its quality control before its printing by our photo laboratory. Your wedding photo is then printed on silver photo paper. This Fine Art print can then be laminated on an aluminum plate. If you'd rather select our Plexiglas finish, a 2 mm thick matte or classic Plexiglas film will protect your print. This is an ideal finish to emphasize the sophistication of a wedding photo.
The Zeinberg Plexiglas finish photographic print is one of the most popular formats chosen by newlyweds. In its matte finish, Plexiglas avoids any reflection. It perfectly enhances the depth of a composition, great for outdoors wedding photos and couples' portraits. The matte finish also benefits nighttime photographs, such as those taken by your wedding photographer on your wedding party. Like a painting, your wedding photo benefits from a seamless high quality print worthy of an Art gallery.
The Plexi finish is available for all our print sizes, from our Mini to Collector. Large, Giant or Collector prints can also benefit from a matte Plexi finish.


A Mini format for a more discreet decoration
The Zeinberg mini format photo print concentrates in a small size all the expertise of our professional photo lab. The Mini format is a great decoration that can be displayed alone or in an accumulation. Why not choose your most beautiful photos to create a series of prints highlighting the best moments of your wedding ceremony? From the cocktail to the party, without forgetting the bouquet toss, the Mini format allows you to create a modern and artistic version of the traditional wedding album.
Your Mini photo print can be exhibited on walls thanks to the included hanger or displayed on a piece of furniture. On your desk or nightstand, your Mini print brings your wedding day memories to life wherever you want, even in small rooms.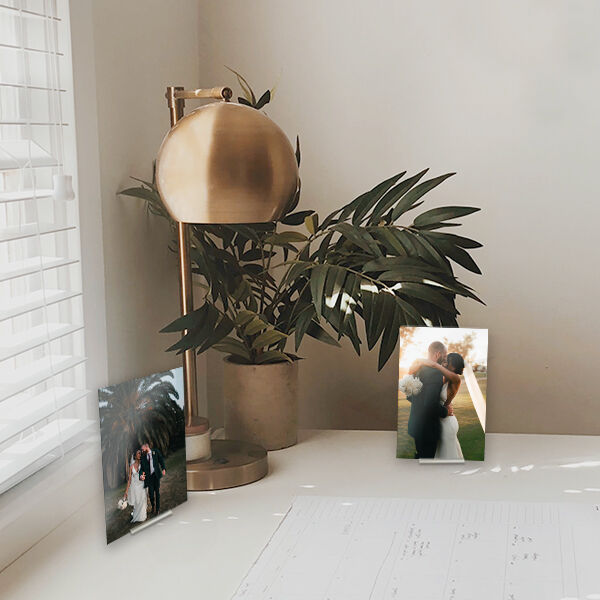 Your photo is printed on Fine Art photo paper and laminated on aluminum before being protected by a Plexiglas film. Our experts take care of each step to avoid reflections, bubbles or distortions while reinforcing the depth of your image and the quality of its colors.
Are you looking for an original gift idea to thank those who shared this unforgettable day with you? Offer your wedding guests a Mini photo print! Whether it's a portrait of the newlyweds or a personalized photo of each of your guests in their wedding outfit, you're sure to surprise them.

Ready to say I DO to your most beautiful photos ?

© 2022, Justine Grosset for Zeinberg