Wall Decorating Ideas for Your Living Room
The 05/07/2022
Do you dream of a perfectly decorated living room that reflects your style while being harmonious and up to the latest trends? For a personalized and original interior design, wall decoration is an excellent idea. Whatever your budget, it will be easier and more personal to choose a framed print of your photos rather than a reproduction of a master painting or a painting bought in a specialized store.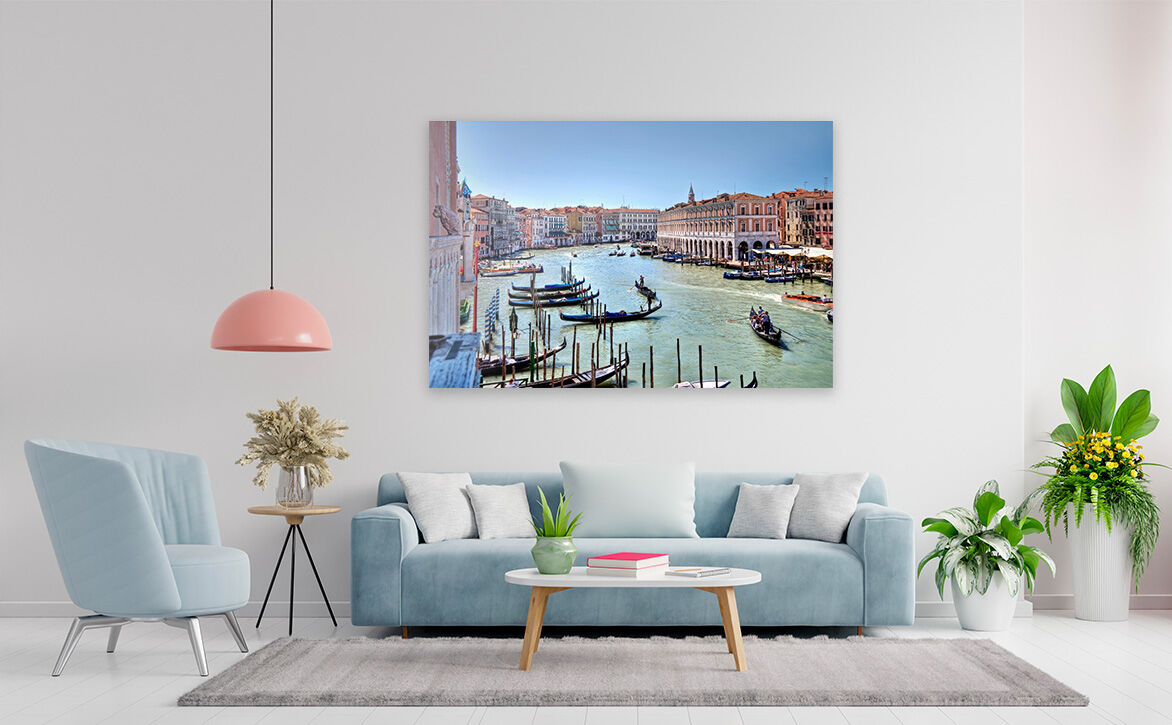 Displaying your favorite photographs in your living room enables you to enjoy them daily and to share them with your guests. It's also a chance to truly appreciate them thanks to the greater space usually offered by a living room. Trying your hand at wall decorating is an opportunity to rekindle your creativity with our wide selection of finishes, sizes and frames. Zeinberg wall decorations ensure that your living room will look like no other.
Our Tips to Personalize Your Wall with Your Photos
Wall decorations can bring a unique atmosphere to a room. This is all the more enjoyable for a living room: a space designed for relaxing, entertaining and gathering with friends or family.
The living room is a room where we spend a lot of our time in the evening, on weekends and now even more working from home. We share our meals, relax in front of a movie, read and have most of our conversations in this unique living space. It's therefore natural and essential to prioritize the decoration of this room among the other rooms of our houses or apartments.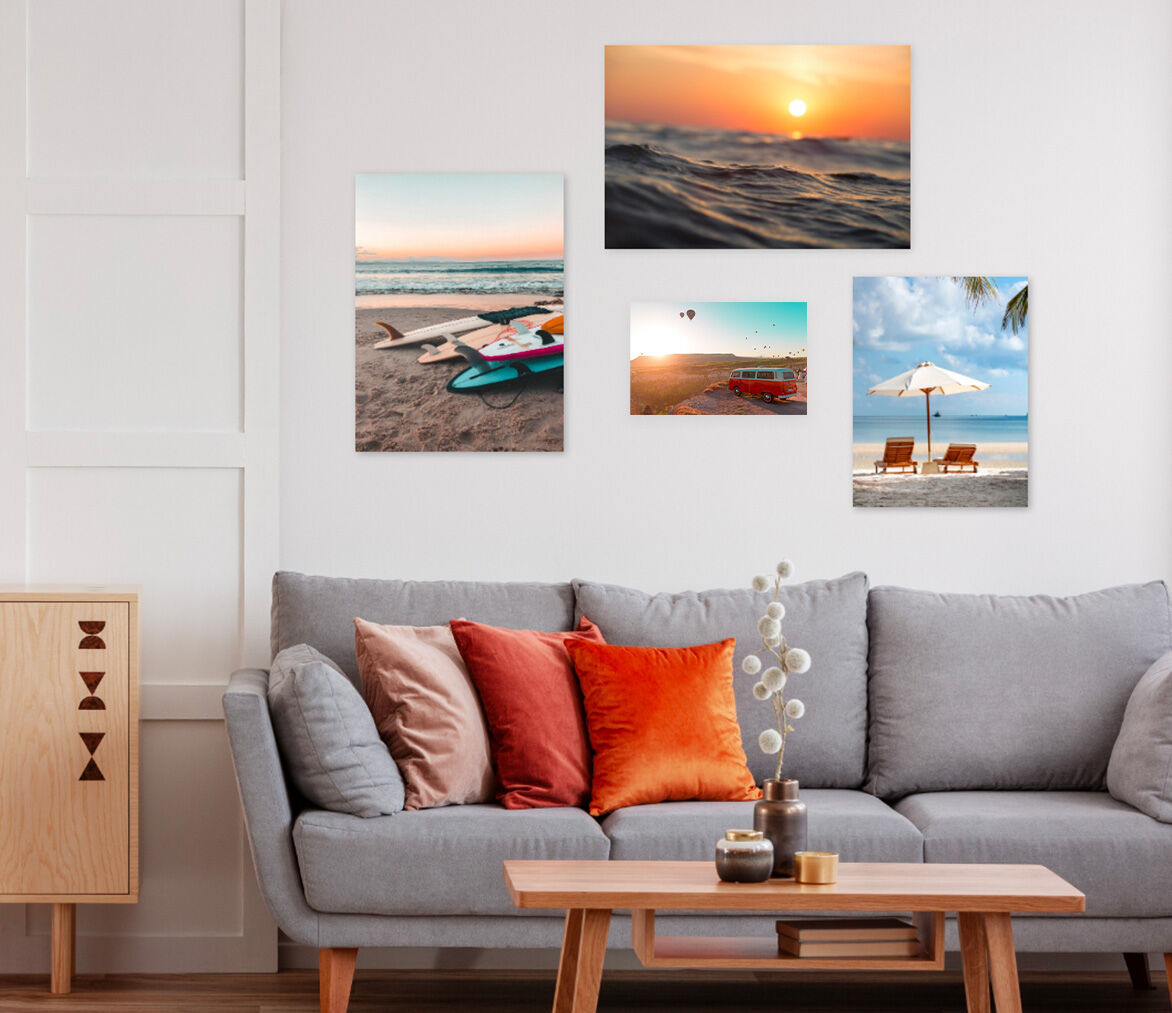 At Zeinberg and Yellow Korner, our Art galleries established in France and abroad, we like to dare unique and original associations! Exhibiting a variety of photo prints is an opportunity to have photographers with different styles "meet," to mix portraits and landscapes, even urbex images or very trendy abstract compositions.
Choosing a Format According to Your Available Space
A living room wall is one of the best spaces for displaying your personal photos. It's usually the room with the most generous volumes compared to a bedroom or a hallway.
To perfectly decorate your living room wall, it's essential to be aware of your available space. Regardless of your home or apartment size, there are a multitude of sizes and options for framing and hanging your favorite photos in your living room. Our experts can develop your personal photos in many sizes from Mini to Collector:
Mini format (from 13 x 13 cm to 19,5 x 13 cm)
Framed Gallery (50 × 40 cm)
Selection format (from 35 x 35 cm to 45 x 30 cm)
Large format (from 60 x 60 cm to 90 x 60 cm)
Giant format (from 100 x 100 cm to 150 x 100 cm)
Collector format (from 180 x 120 cm to 120 x 120 cm)
Each of these formats magnifies your photographs printed on photo paper in the Zeinberg finish of your choice (Fine Art, Aluminum, Plexiglass or Matte Plexiglass).
Your living room furniture and objects are also to be considered. Do you want to display a large format photograph above your sofa? Remember the height of this furniture to ensure a good visibility to your picture. Paintings, mirrors and other wall ornaments can also be paired with a photo print. Before selecting your Zeinberg format, always check the space available for the decorated wall sections of your living room.

Create a Photo Wall with Various Formats
To create a special atmosphere in your living room, follow our advice by mixing subjects and formats. For a trendy design and an original photo print, we recommend keeping a mix-and-match display to a single wall in your living room. For example, you can hang several photos printed in our Selection format with our Large format prints. It's a great way to give a room a creative and artistic feel that reflects your taste and style.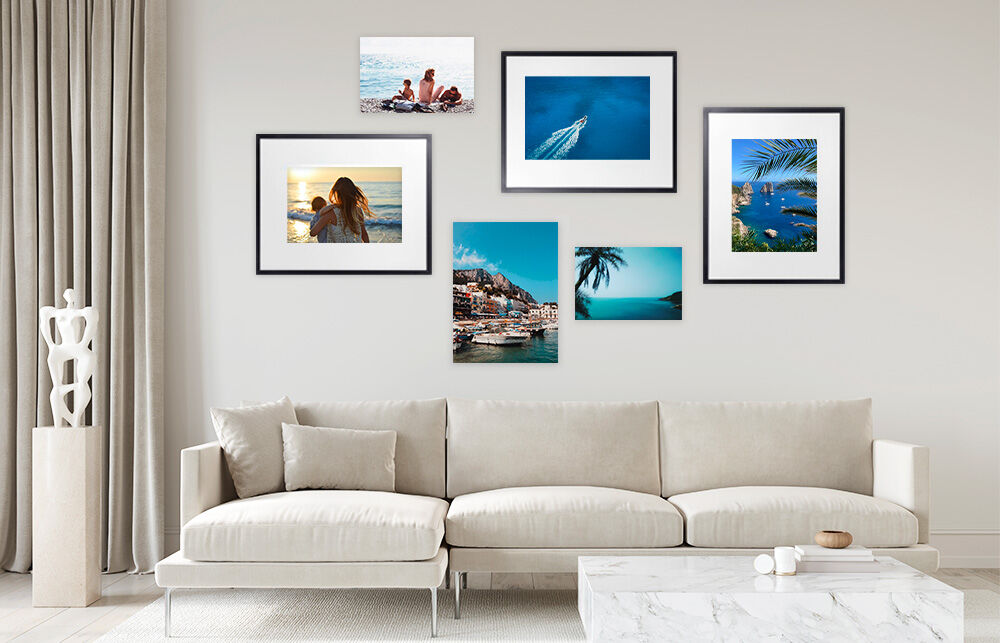 For a timeless and minimalist wall decoration, you can choose a framed photo print thanks to a photo paper finish under Plexiglas and a simple frame. This is the case with our Framed Gallery format coming with a ribbed passe-partout in a black aluminum metal frame. Pairing several framed photos can elevate the decoration of your living room for an elegant atmosphere.
Showcase Your Best Photos with Our Large Formats
Printing your photography in large format is the best option for an immersive rendering. Our photo lab offers your images an exceptional print quality even for photo prints that require great technical and artistic mastery.
We offer different options and format for our large prints all available in Fine Art, Aluminum Plexi or Matte Plexi finishes:
The Large print
The Giant print
The Collector print

These three spectacular formats can all benefit from the addition of the Zeinberg framing. Our most sophisticated finish magnifies your photograph and emphasizes the majesty of large-format photographs. The floating impression created by the Zeinberg framing and its ribbed passe-partout contribute to the modernity of your photo print. It all comes to a subtle balance to avoid an overwhelming effect and reveal the charisma of a large-format print.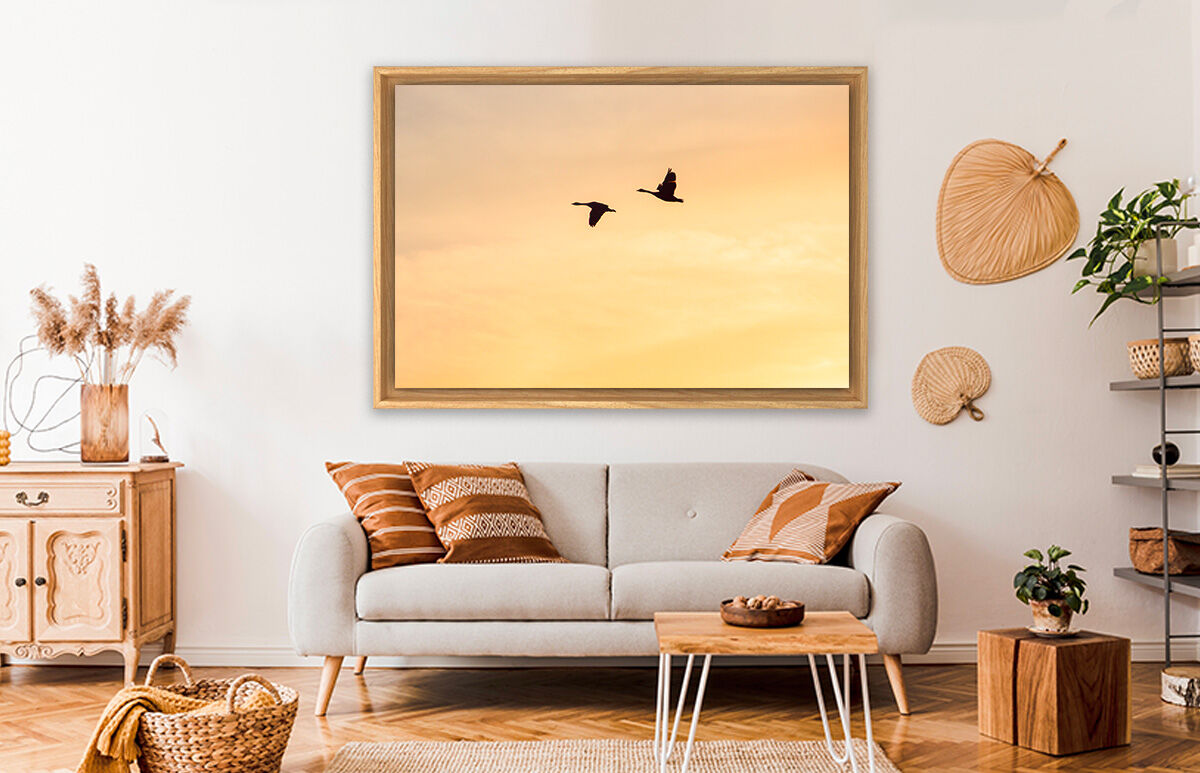 Our large-format print with a custom-made Zeinberg framing has become emblematic of our photo lab's know-how. It lends itself perfectly to the decoration of a living room or a dining room. This print is widely used by galleries and professional photographers.

A Harmonious Wall Arrangement
To create a harmonious wall composition, it's important to pay attention to the images you choose, to their framing and to the harmony of their association. Magazines, social media, blogs: there are many sources of inspiration to create a harmonious interior photo decoration. Our best advice is to follow your intuition. Diptych, triptych, photo series or large format attracting all the attention: listen to your imagination and create as many wall decorations as you wish.
Don't forget to consider the specifics of your living room. How much hanging space do you have? Do you have furniture, such as sofas, whose style might influence the type of framing you choose? Or maybe a nice wallpaper whose patterns can be enhanced by a photograph in the same color combination? All these elements create a harmonious living space with a strong character.
White walls also help to create a serene or rejuvenating atmosphere. Make good use of the space at your disposal and leave a few blank areas to create breathing space and better highlight the framed photo prints you have displayed in your room.
You now master the Art of original personalized wall decoration!

© 2022, Justine Grosset for Zeinberg